Firefighters test disaster plans near Bristol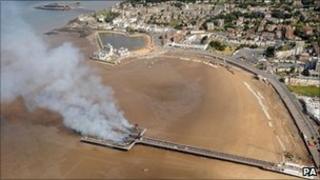 More than 120 firefighters from across the United Kingdom are taking part in three major exercises to test their plans to cope with a big disaster.
The scenarios involve two separate large "fires" on an industrial estate near Bristol and a failure of the reservoir banks at Chew Valley Lake.
An Avon and Somerset Fire and Rescue Service spokesman said the exercises would test crews to the highest level.
"This is an opportunity to see how we'd work together on a major incident."
The exercises, which are taking place on Saturday, are using 13 high volume pumps (HVP).
'Exceptional equipment'
These are capable of pumping 7,000 litres (1,540 gallons) per minute and have been used at the Buncefield oil depot fire in 2005, during the flooding in Gloucestershire in 2007 and to pump water to the fire at the Grand Pier in Weston-super-Mare in 2008.
In the fire exercises, both taking place at Avonmouth, the HVPs will be used to pump water more than 4km (2.5 miles).
"The HVPs will pump water from the docks, and in a real incident, would be mixed with foam to tackle the blaze.
"They are exceptional pieces of equipment that can be used to quickly remove huge volumes of flood water or deliver large quantities of water on to a major fire," the fire brigade spokesman added.