Bath council creates 60 extra school places this year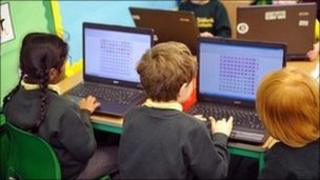 An extra 60 places have been created at two Bath schools in a council move to increase parental choice regarding primary school admissions.
The places have been split equally between St Saviour's Infant School and Weston All Saints Primary School.
Bath and North East Somerset Council (Banes) hoped "to increase the number of preferred choices which can be met".
A total of 88% of parents had now received an offer of a place at their first preference school.
Approximately 97% of parents or carers had been offered one of their preferences.
The Liberal Democrat-run authority said the figures "compared very well with other local authorities and represented a very similar proportion to previous years".
It also added that there was a "bulge" in numbers this year, with an additional 145 children offered their first preference school.
'Ripple effect'
Parents with children due to start primary school in September received news of the school places being offered to them at the end of April.
However, the council said that some parents had received an offer of a school which was "not a preferred option" or was far from their home address.
Banes said that the extra places had created a "ripple effect", meaning "some further spaces" have been "released at other schools".
Parents who were not offered their first preference will receive a further letter this week.
It will either offer a new place at a different school or confirm the place already made to them in the April's communication.