Stokes Croft Tesco: Judicial review announced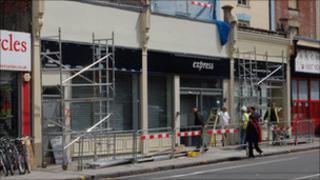 A judicial review of Bristol City Council's decision to award planning permission to a controversial Tesco store is to take place in June.
Councillors approved the plans for the store in Stokes Croft despite objections from a number of residents.
They have claimed the council "failed to follow proper procedure" but the council has rejected.
The store was attacked by protesters in April after a raid on a squat opposite turned violent.
The shopfront of the store was also attacked when a second protest turned violent.
'Financial fear'
It has been closed since the riots and nine people have been charged with offences relating to violent disorder.
The campaigners who sought the review said the council disregarded safety issues surrounding deliveries which were not considered in the planning process.
"We believe their negligence was driven by the council's financial fear that if permission were refused Tesco would almost certainly appeal (against) the decision," resident Rachel Bibb said.
A city council spokesman said: "We feel all the correct planning procedures have been followed and the council will be represented at this hearing."
The case will be heard at the Civil Justice Centre in Cardiff on 15 June.