Bristol man to cycle 1,000 miles to raise £50,000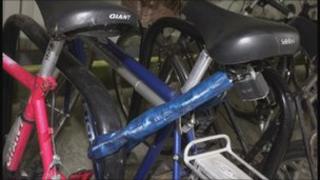 A man from Bristol, who broke his back in two places, is taking on a 1,000 mile cycle challenge for charity.
Dave Hart, 48, will be leading a team of nine other athletes in cycling from England to Italy in a bid to raise £50,000 for Shine Together.
The charity supports Southmead and Frenchay hospitals, where Mr Hart received treatment for his back injury.
The Gran Charity Giro, which should take approximately eight days, will go through France, Switzerland and Italy.
The event will also raise money for Leukaemia and Lymphoma Research and the Katharine House Hospice.
"This is an exciting challenge and one that I didn't think I'd be able to do," he said.
"I'm so grateful to the medical teams that helped me recover that 1,000 miles on a bike really seems like the least I could do."
'Giving something back'
Mr Hart, a Bristol-based event organiser, has been cycling since 1982 but has taken a hiatus for the last 20 years in order to raise a family.
"Every pound raised will go straight to these charities," he added.
"[They] are close to all our hearts and we've been shown a huge amount of support from our colleagues and customers."
Head of fundraising at Shine Together, Trevor Reid said: "Dave's commitment to giving something back to the hospitals is absolutely wonderful.
"We are so pleased to be able to support him and his crew in their fundraising efforts."
The Gran Charity Giro will set off from Stafford on 2 July, for the official launch at Southmead Hospital near Bristol, the home of Shine Together.
The team aim to finish the challenge in Milan, Italy, on 9 July.