Great George bell peal marks Bristol University charter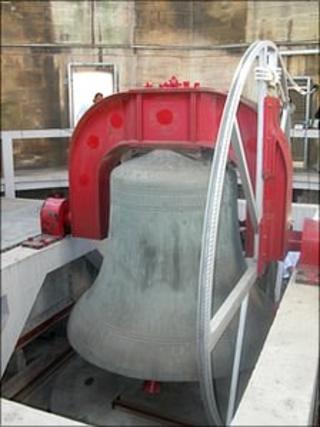 Academics will be ringing a large bell to mark the anniversary of the University of Bristol's Royal Charter.
"Great George", the nine-and-a-half-ton bell in the Wills Memorial Building tower, will peal for five minutes at 1300 BST.
Charter Day marks the date, 24 May 1909, when King Edward VII bestowed the charter on the university.
The agreement enabled the university to grant degrees and established the academic institution.
"It is important to commemorate such a momentous occasion in both the city's and university's history," said Huw Lloyd-Jones from the university.
"We hope the ringing of Great George will remind people that the Charter has enabled the university to evolve into one of the most sought after academic establishments in the country."
'Finest' example
The university, which has students and staff from more than 100 countries, forms "an important part of Bristol's history", according to Mr Lloyd-Jones.
Great George was cast in 1924 and is named after George V, English architect George Oatley, and George Wills, who was responsible for the building of the Wills Memorial Building in memory of his father.
Great George is reputed to be the finest E-flat bell in Europe and one of the deepest-toned bells in the world.
It can be heard 12 miles (19km) away and will be rung by the University of Bristol Society of Change Ringers (UBSCR).
UBSCR was founded in 1943 and now has more than 300 members made up of current and past students and staff from all over the world.