Date set for Ashton Vale football stadium decision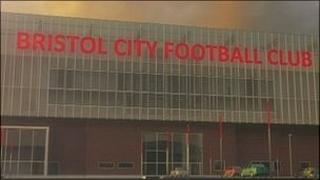 A decision over a 30,000-seater football stadium at Ashton Vale in Bristol could be made on 16 June, the city council has announced.
The Public Rights of Way Committee will meet to discuss an independent inspector's recommendation that the area should be made a town green.
If councillors back the recommendation it would block Bristol City FC's plans to build the new stadium.
The councillors on the committee could also refer the plans to full council.
The full council next meets on 21 June at the Council House on College Green.
Bristol City FC has already been granted planning permission to build the stadium on the Ashton Vale site.
But some residents have claimed the site - which is owned by Bristol City owner Steve Lansdown - is used as a recreational area and want to protect it by gaining town green status.
Approval would mean the 42-acre site would be protected from development - and would thwart the club's plans.
The new deadline for the decision was bought to a head after the Lib Dems lost seats in the May local elections.