E.coli bug: Another Redfield Edge pupil has illness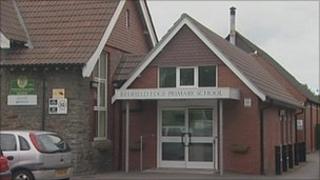 Another child at a school near Bristol has been confirmed as having the E. coli bug.
Redfield Edge Primary School in South Gloucestershire closed on 20 May after the illness spread through children and adults at the school.
The Health Protection Agency (HPA) said there were 16 cases among pupils and a further seven cases in family members.
Four children have been treated and then discharged from hospital, the HPA spokesman added.
The outbreak is not linked to E.coli cases associated with salad vegetables in Germany.
Dr David Hunt from the HPA said its investigations into the outbreak were continuing and he praised the help received from parents with children at the school.
"While the number of confirmed cases continues to rise, these relate to earlier bouts of illness," he said.
"We've had no new reports of illness for over a week and the school has been deep cleaned. Samples from the kitchens have proved negative for E. coli, which is further reassurance.
"When the school reopens, we will be monitoring the situation very closely. We've asked for parents to check for any signs of diarrhoea in children, and for them to encourage their children to keep washing their hands thoroughly after going to the toilet and before eating."
The agency said no clear source for the illness had been identified.
The HPA said it was also aware of diarrhoea and vomiting in children from neighbouring schools - St Barnabas Primary School, in Warmley, and Sir Bernard Lovell School in Oldland Common.
But it said there was no evidence of a connection to the Redfield Edge cases of sickness.
The HPA said parents had reported 40 other children with vomiting and diarrhoea but that there had been no new cases reported since 21 May.