Bristol docks' £12m upgrade 'on time and on budget'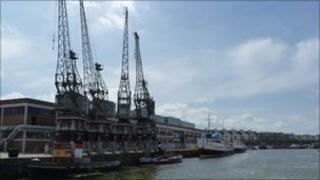 Repair works which cost £12m, and aim to protect Bristol from flooding, are to be unveiled at the city's docks "largely on time and on budget".
But Bristol City Council admitted a "mistake by contractors" delayed the work at Netham Lock by two months.
The council's deputy leader, Liberal Democrat Simon Cook, said "two parts were complete with the third stage due to be finished in July".
He said the new 50-tonne steel lock gates had to be "customised" on site.
"The things are made and then they're brought to the city and they are finished off actually on site so they fit exactly," he said.
"Apparently this one's taken a bit longer than the others did.
"I'm not a technical man but they've assured us that they'll be done by July and there's been no increase in the cost.
"That's the most important thing as far as I'm concerned."
A spokesman for the Environment Agency said the works would "protect nearly 400 city centre properties from flooding".
He said the organisation would work with the council to "oversee further investment in flood risk protection" in central Bristol.
Wood reused
The three-year project has been funded with grants from Defra and the Environment Agency.
It includes installing an alternative operating system and back up floodgates at the Cumberland Basin.
The sluice mechanisms at Netham Lock are also being refurbished and upgraded.
Two benches are being made from the reclaimed wood from the 140-year old Victorian gates.
One bench has been situated along the Cumberland Basin walkway, with the other to be sited in the public space outside the M Shed museum when it opens on 17 June.
Bristol City Council will officially open the completed works on Friday 10 June at Junction Lock close to The Pump House.