Bristol free bus scheme plans weekend start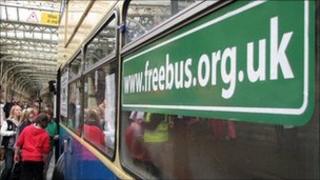 A free-to-use bus service which has been funded by local residents is to launch in Bristol on Saturday.
The service, which ran a free trial in December, will initially run on a loop between Bristol Temple Meads railway station and the city centre.
Passengers can use the service for free but are encouraged to make donations.
Chair Jack Phillips said: "FreeBus provides a different funding model. Our growing membership means we can expand and start bidding for other routes."
Last week, Bristol City Council announced large cuts to the publicly-subsidised bus services in the city.
The £2m of cuts could see services such as the school yellow buses and off-peak bus services axed.
Park and ride bus fees may also rise.