Victoria Cross Crimean War teenager honoured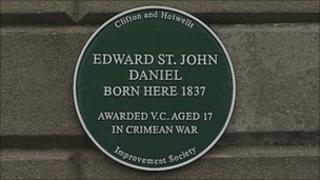 A plaque honouring the life of a Bristol naval officer, one of the first people to get the Victoria Cross (VC), has been unveiled at his former home.
Edward St John Daniel joined the Royal Navy just before his 14th birthday, and was honoured at the age of 17 for three acts of bravery during the Crimean War.
However he was later stripped of the prestigious award after being convicted of desertion and evading court martial.
The plaque stands on his birthplace in Windsor Terrace in Clifton.
A grave which purports to be Edward Daniel's is at Hokitika Municipal Cemetery in New Zealand.
He died on 20 May, 1868, aged 33.
During his life he was also awarded the Crimea Medal, the Legion d'Honneur, and the Indian Mutiny Medal.
Courage and bravery
His great half-nephew Christopher Daniel said: "It is a very great privilege and certainly a great pleasure to have been invited to dedicate this plaque in memory of my great half-uncle.
"I should like to thank the people of Bristol, specifically the Clifton and Hotwells Improvement Society, for having this plaque made, and for recognising Edward Daniel's bravery, without the Victorian prejudice that cast such a dark shadow over his later life."
The plaque was presented by the Clifton and Hotwells Improvement Society, which was founded in 1968 and now has over 1,100 members.
The group covers Hotwells, North Clifton, Cliftonwood, the west of Whiteladies Road and Clifton Village, and aims to improve local amenities and preserve features.