South Gloucestershire parents against 'fat packs'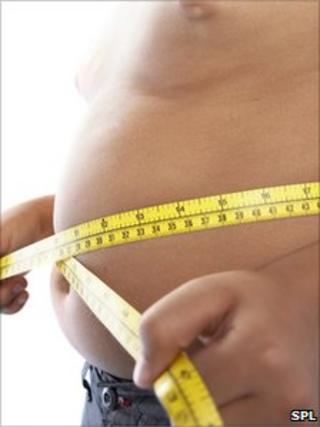 Parents in South Gloucestershire say money is being wasted on a scheme which monitors the weight of their children.
Letters and advice packs are being sent to families whose five-year-olds are deemed "overweight".
The National Child Measurement Programme was set up by the Department of Health to identify youngsters with potential weight problems.
But parents say it is "dangerous" to label children fat or overweight at such an early age.
Darren Watkins from Kingswood said it was "laughable" that his five-year old son Thomas was called overweight.
"I think the system's completely wrong. It's a national thing, they're just putting numbers into a computer.
"He's an active fit chap [and does] swimming, football, rock climbing, riding bikes.
"He's muscley because of his activities and he's a toned chap, there's not an ounce of fat anywhere."
'Face-to-face'
Mr Watkins said he was also concerned that some children could read the letters and it would then affect their eating.
The programme started seven years ago, with the aim of reducing Britain's growing problem of childhood obesity.
Children are weighed and measured when they start primary school as five-year olds, and again in their final year, aged 11.
Parents whose children are identified as being overweight are sent letters, information and guidance on improving their health.
Dr Pauline Emmett, a nutritionist and dietician at Bristol University, said a letter home to parents about their child's weight is "not possibly the best way to deal with that but it is the cheapest way".
'Important part'
The programme is implemented locally by individual care trusts, but all the advice documents and template letters are provided by the Department of Health.
"I appreciate how the parents feel but we do tell the parents about the programmes, so receiving these results should not be a surprise," said Julie Craig from NHS South Gloucestershire.
"We have obesity rates in South Gloucestershire, of very heavy children, of 16.7% in year six in the last academic year, which is not what we want to see."
Ms Craig added that locally the data will be used to shape services and raise awareness of the importance of children growing up healthily.
The Department of Health said the programme was an "important part" of the government's Healthy Weight, Healthy Lives strategy.