Bedminster fatal flats fire leads to evacuation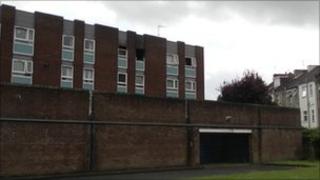 One person has died in a fire at a block of flats in Bristol, which led to the evacuation of the building.
Crews went to Mawdeley House in Catherine Mead Street, Bedminster, at 2315 BST on Tuesday after reports of a fire on the third floor.
Firefighters searched the building as people were inside. Five people were then given oxygen therapy for smoke inhalation by paramedics at the scene.
An investigation into the cause of the fire is expected to start later.
A statement from Avon and Somerset Police said the force was keeping an open mind about the cause of the death.
"Between 15-20 elderly people were evacuated from the property, which consists of about 25 flats," it said.
"They were taken to the Bristol Royal Infirmary, believed to be suffering from smoke inhalation."
Bristol City Council said residents were moved to other nearby accommodation.
"Residents were evacuated to nearby Berchel House, Catherine Mead Street, where council housing officers provided support," it said.
The authority said there was "significant fire damage".
"Three other flats also suffered fire or fire/water damage and the rest of the building also suffered some smoke, fire and water run-off damage," it said.