Weston rail line electrification 'not viable', says DfT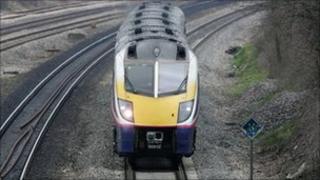 The Department for Transport has officially ruled out electrifying the rail line between Bristol and Weston-super-Mare.
The government confirmed in March that the rail line between London and Cardiff would be electrified at a cost of £1bn.
The West of England Partnership wrote to the government to query if Weston would be included in the scheme.
But the DfT replied saying there was not a "viable business case".
Stephen Howe, from the DfT's major network upgrades department, added that bi-mode trains that work on electric and diesel would serve Weston.
He went on to tell the West of England Partnership that services did not run often enough to the seaside town to justify the spending.
"High frequency of services is needed if the fixed lineside cost are to be offset by the savings in train maintenance.
"Unfortunately the frequency of trains between Weston-super-Mare and Bristol is not high enough to offset these costs."
Mr Howe added there could be hope in the future saying the Secretary of State said he would keep future electrification "under active review".