Liver cell creation from stem cells simplified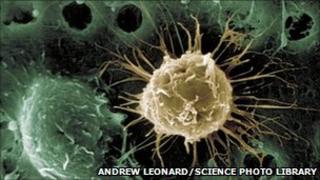 Scientists in Bath have discovered a simpler way of creating precursor liver cells from stem cells, which could be used to test new medicines.
Professor Melanie Welham said the new way of developing the liver cells should reduce the cost of the procedure.
"This will allow the scale on which precursor liver cells are created to be more easily increased," she said.
Research still needs to be done to create fully functioning liver cells.
Even everyday painkillers are known to have toxic effects on the liver if taken in the wrong quantity.
'Early stages'
The tests currently used do not always accurately predict what will happen in humans.
Dr David Tosh, who co-supervised the research with Professor Welham at the University of Bath, said: "This is a significant breakthrough in the field of stem cell research and will impact on the pharmaceutical industry and the way in which medicines are tested.
"There is, however, a great deal of work to still be done.
"Until now our research has focused on the early stages of liver cell development and there is still a lot of research to do to expand what has been found so far and to generate fully functioning liver cells."
The research programme has funding for another three years.