Planners make Ashton Vale town green recommendation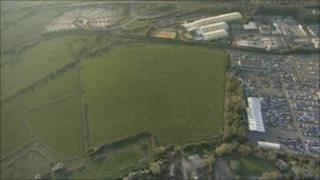 An application for a town green at the site of a proposed football stadium in Bristol has been recommended to be partially turned down.
Planners at Bristol City Council have said the northern part of the site, at Ashton Vale, does not meet the requirements to be a town green.
But they added the southern part of Ashton Vale should be registered as a town green.
Bristol City Football Club wants to build a new stadium at the site.
Residents have claimed the site - which is owned by Bristol City owner Steve Lansdown - is used as a recreational area and should be protected with town green status.
The club wants to build a 30,000-seater stadium there but if the land was made entirely a town green the application could be blocked.
Should councillors approve the planners' recommendation it would mean the stadium could go ahead.
'Lawful games'
The council report said the move would "protect the interests of both parties" and would safeguard land at Ashton Vale at the same time as "allowing the development" of the new stadium
For land to be registered as a town or village green, applicants must prove the area has been used for "lawful games or pastimes" for the past 20 years.
Council planners said there was "significant" evidence of the site being used for landfill within that time limit.
An independent planner has already recommended the area be registered as a town green, but Bristol City Council has the final say.
The document will now be considered by the council's Public Rights of Way committee on 16 June.
The council document warned that the option of partially registering the site as a town green could have legal implications.