Somerset toddler bath death was accidental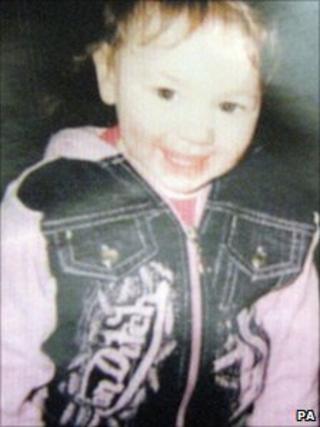 An inquest into the death of a toddler who suffered serious burns in a bath has recorded a verdict of accidental death.
Katelyn Seers was 18 months old when she died after the incident at her home in Barrington, Somerset.
Her mother, Leanne, told the inquest she was running a bath for her daughter and left the room to go to the toilet.
She said that during that time the toddler climbed into the bath and suffered 30% burns in scalding water.
The youngster died in hospital five days after the incident in February 2007.
East Somerset coroner Tony Williams, sitting in Wells, looked in detail at the care Katelyn received at Bristol's Frenchay Hospital.
Consultant plastic surgeon Alan Kay said that while 90% of children with burns similar to Katelyn's survived, her condition suddenly deteriorated and she died of septic shock.
Katelyn's parents Leanne and Dave said they hoped that the pain they had gone through would serve as a lesson to other parents and perhaps prevent a similar tragedy in the future.
'Cheeky smile'
In a statement Mr and Mrs Seers said: "Katelyn was a bubbly, mischievous and very active 18-month-old little girl who was full of love to everyone she met.
"She loved spending time playing with her family. She had a cheeky smile and laugh and she loved to paint and use crayons.
"The accident was a great shock and the pain will never go away."
The couple's solicitor John White said they did not blame anyone for the accident.
He said: "It had seemed that in spite of her injury Katelyn would still have been all right. Therefore they wanted to know what happened in Frenchay Hospital and why, in spite of the efforts of the specialist doctors, Katelyn died."
Coroner Mr Williams said he accepted pathologist Dr Hugh White's cause of death as septic shock due to scalding of the arms and legs.
Mr and Mrs Seers, who have three other children, said: "As a family Katelyn's loss has put a massive hole in our lives as she was a fun-loving little girl who made us smile when we were down.
"As parents with other children we have to cope because of them. We talk about Katelyn, celebrate her birthday and remember her on the anniversary of her death.
"For the last four years the journey has been hard but even now that the end is in sight the pain of our loss will never go, but as a family we will be strong and Katelyn's memory will be with us forever."