Bristol docks officially opened after £12m revamp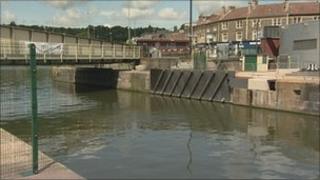 The newly refurbished docks in Bristol have been officially opened.
The three-year project, which included installing an alternative operating system and back up floodgates at the Cumberland Basin, cost £12m.
Harbour manager Richard Smith said: "It was an old system and it had to be replaced."
He said the docks were vital to the local economy. The works will mean more than 400 properties are protected from flooding.
Mr Smith said: "The Victorians were were brilliant engineers, but it all ran off a water system and we had to put in a modern hydraulic system.
"As we were doing that, we had to make sure the new system operated efficient, effective and safe kit, so we've had to replace all the stock gates and the lock gates just to make sure it all works properly.
"It's very difficult to put a price on the economic benefit of the docks to Bristol, but it is an awful lot of money, vital to the local economy, and obviously it all needs to work.
"The huge number of visiting vessels need to be accommodated and also the vessels that are already moored here in Bristol need to be looked after."
The city council has previously admitted that a "mistake by contractors" delayed the work at Netham Lock by two months.
The new 50-tonne steel lock gates had to be "customised" on site and those works are due to be finished in July.
The works were funded with grants from Defra and the Environment Agency.