Bristol No Tesco 'tea party' held ahead of appeal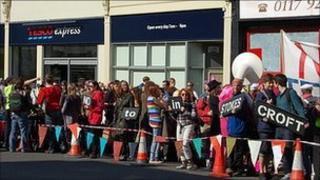 Campaigners opposed to a new Tesco Express supermarket in Bristol have staged a celebratory "tea party" outside the controversial store.
Organisers said they had won the right to appeal against an earlier decision to deny them a judicial review into the granting of planning permission.
More than 100 people took part in the peaceful protest on Monday evening.
The Stokes Croft branch was recently reopened after being damaged during street clashes in April.
The appeal will be heard on Wednesday.
Campaigners say its focus includes what they see as a failure to consider a traffic impact assessment in the planning process that led to Tesco opening in Cheltenham Road on 16 April.
A spokesman said: "We are saddened that the council can't yet understand that our actions in championing local plans are actually a way of supporting local authorities in their current struggle with national planning laws."
No-one from the council or Tesco has yet been available for comment.