Pulteney Bridge fines up with new cameras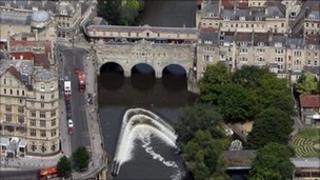 Improved CCTV cameras on an 18th Century bridge in Bath have led to the number of motorists fined for illegally crossing it more than doubling.
The historic Pulteney Bridge is only meant to be used by buses, taxis and bicycles and some authorised vehicles.
In 2007, when the restrictions were first put in place, 8,543 were fined with 3,208 and 6,469 given penalties in 2008 and 2009.
After the installation of new cameras fines rose to 15,556 in 2010.
The fine for illegally crossing the Grade I-listed structure is £60 which is reduced to £30 if the offender pays the fine promptly.
The council said "new technology" had helped it catch more people.
Councillor Roger Symonds said the restrictions were not in place to make money but to stop congestion and pollution.
But he added that he would review the signage on the bridge.
"Sometimes the signs can be obscured by trucks delivering and that's something I want to look at," he added.
Recently, cracks have been found in the structure which spans the River Avon.
The previous Conservative administration on the council wanted to close the historic structure completely to traffic.
But the Liberal Democrats, now the ruling part in the city, said they would review the situation and that no final decisions had been made.