Clifton Suspension Bridge work will lead to closures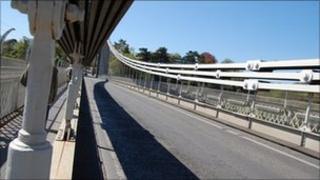 The Clifton Suspension Bridge in Bristol is to be closed overnight for three weeks for repair work.
The work, which begins in July, is to resurface the road on the 147-year-old structure and is part of an £8m improvement scheme.
Bridge master David Anderson said the work would only happen on weekdays from 1900 until 0600 the following morning.
"We have planned this work to coincide with the resurfacing to avoid additional road closures," he said.
During the work, pedestrians will still be able to cross the bridge but cyclists will have to dismount and walk.
Engineers will also carry out maintenance work on the hangers which connect the deck of the bridge to the chains above.
Specialist conservators are also starting to clean and repair the stone on the parapet walls at each end of Isambard Kingdom Brunel's bridge.
Dayrell McArthur, chairman of the bridge trustees, has again warned the cost of the work will mean that tolls will have to rise.
"A lot of work is being done this year and more is planned in the years ahead.
"The running and maintenance of the bridge has to be paid for with the income we receive from through tolls so it is inevitable that we will have to increase the cash tolls paid by drivers in the near future."