Bristol and Bath Science Park gets new solar roof panels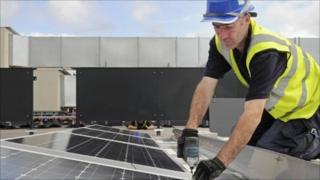 Work to install dozens of solar panels on the roof of the new Bristol and Bath Science Park has begun in Bristol.
The 154 panels cover an area of 200 sq metres (2,153 sq ft), the equivalent in size of half a tennis court.
They will save around £2,350 on fuel bills, and 13 tonnes of carbon dioxide emissions, every year.
Organisers said the £300m park, near Emerson's Green to the north of the city, would create 6,000 jobs.
Solar panels use light energy from the sun to generate electricity through the photovoltaic effect.
'Real difference'
The panels in Bristol are being installed on the roofs of the park's first two buildings, known as SPark One.
"The science park was designed with sustainability in mind from the outset," said Bonnie Dean, chief executive of the site.
"We expect these solar panels to provide around 10 to 15% of the energy requirements of SPark One.
"It's exciting to see these panels going in. They will make a real difference to tenants' bills while contributing to our low carbon commitments."
The park hopes to, over the lifetime of the system, save more than £100,000 and more than 500 tonnes of carbon dioxide emissions.
The 59-acre (24 hectare) site will also boast a solar thermal hot water system to pre-heat the water for the heating system, and a biomass boiler that will provide heat using locally-sourced wood chips.
The science park, which has been 20 years in the making, is a joint project between the South West RDA, three Bristol and Bath universities and developer Quantum.
The buildings are expected to be ready for occupation later in the summer.