M4 reopens after lorry fire forces lane closures near Bath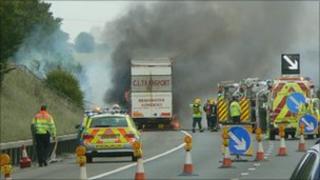 A section of the M4 near Bath has reopened after a lorry fire caused it to be closed in both directions.
The fire in the lorry, which was carrying bales of cardboard, was reported at about 1500 BST on Tuesday.
Both carriageways were initially closed until just before 1530 BST after which the westbound side was reopened.
The eastbound carriageway between junctions 18 and 17 was reopened at about 0400 BST. Nobody was injured in the incident.
At the incident's height four-mile (6km) traffic queues were reported on the eastbound carriageway.