Clifton Cathedral celebrates missionary partnership with mass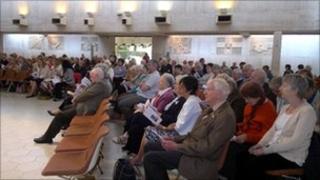 A special mass recognising 75 years of missionary partnership has been celebrated at Clifton Cathedral.
The relationship, between support charity Missio APF and the UK-based Mill Hill Missionaries, was presided over by Bishop Declan.
Monsignor John Dale, director of Missio, and Father Tony Chantry, the general superior of the Mill Hill Missionaries, also spoke at the event.
"It was a great occasion," said Father Gary Brassington from Missio.
"Our diocese consistently contributes over £100,000 each year to Missio APF [and] Mill Hill."
Missio has been the Catholic church's official support organisation for overseas mission since 1922.
Donations are predominantly made using red boxes, which are kept in over 200,000 Catholic homes in England and Wales.
The funds collected in each diocese are sent directly to local bishops in the mission territories.