New plan for Gloucestershire Cricket Club in Bristol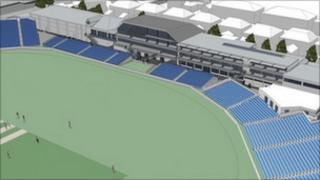 Updated plans to redevelop the County Ground in Bristol have been submitted to the council.
A previous development scheme was granted planning permission but Gloucestershire County Cricket Club only partially implemented it.
The club said it would not build stands adjacent to Kennington Avenue which would now result in a lower capacity.
A plan to include student accommodation has also been dropped in favour of one and two-bedroom flats.
The new flats will also feature underground parking.
The new plan will now feature 7,500 permanent seats rather than the 18,500 the in the previous plan.
The club said it would be able to increase the capacity to 17,500 through the use of temporary seating.
And scrapping plans for a stand backing on to houses on Kennington Avenue was good for nearby residents, the club added.
"It's good for them to maintain their view and keeps them happy. Some of them were concerned," a club spokeswoman said.
She added that the club wanted to retain more of the green spaces around the edge of the ground rather than build stands and keep the "County Ground atmosphere".
Tom Richardson, chief executive of Gloucestershire County Cricket Club, said locals had been consulted on the plans.
"Redeveloping the ground will secure our future on the current site, and enable us to better compete for major matches.
"We were pleased with the response to our public consultation, where many people said they preferred the new plans to those we previously had approved."