Group wants to buy Warminster's old town hall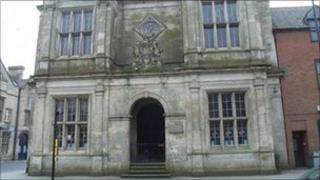 A preservation group wants to buy a listed town hall in Warminster which has fallen into a state of disrepair.
The building, which dates from 1830, was refurbished in the past 10 years but now requires "extensive work" to repair it.
The agent selling the property, David Bedoe, said it "had issues" with leaks and damp problems.
Chris March, a trustee from the Warminster Preservation Trust, said the town centre building looked "sad".
"It's location, location, location," he said.
'Chequered history'
"It's right at the centre of town and if only we could get our hands on it then it would give a boost to the whole town centre.
"We've known over the last six months that it'd be put up for auction.
"The bottom line is that we want to get the old town hall back for the community."
Mr March, who is also a local town councillor, said the Grade II listed building had a "chequered history" and has recently been used as a magistrates' court and a restaurant.
"We've got a fair sum of cash but whether that's enough to secure the building [then] that's another matter," he continued
"We stand a reasonable chance."