Two rescued from canoe in Bristol Channel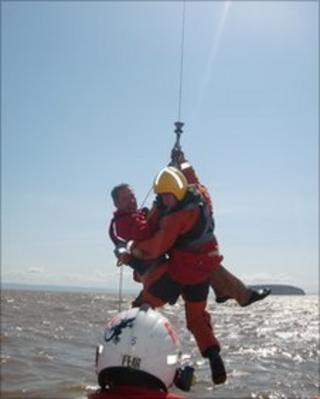 Two canoeists had to be rescued from the Bristol Channel - one by helicopter - after the weather suddenly deteriorated.
The pair were reported as being in trouble near Steep Holm island just before 1500 BST on Thursday and two lifeboats were launched.
The canoe the pair were in was taking in water and one of the men had been in the water for more than 45 minutes.
He was winched out of the water by helicopter and taken to hospital.
Lifeboat crews said he was "obviously suffering from hypothermia".
The other was driven to Weston General Hospital and both were discharged later in the day.
Andy Stoner, the lifeboat's helmsman, said: "These two were well equipped but even so had been caught out as the weather and conditions in the Bristol Channel can deteriorate so quickly.
"However this is what we train for and it is very satisfying to know that the crew have saved two lives today."