Bath students restore statue of Grecian woman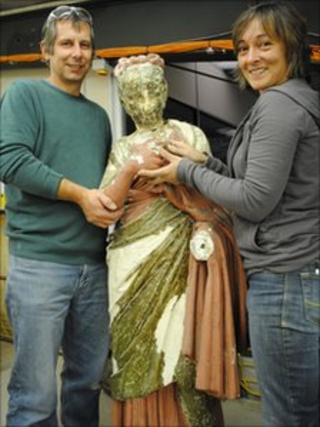 A 19th century statue of a Grecian woman has been successfully restored by stone conservation students at City of Bath College.
The statue arrived at the college in hundreds of pieces and covered with more than 50 layers of paint.
It was one of four statues that stood in The Corridor, in Bath until 2001.
Another statue will be restored by next year's students and then both are expected to be reinstated at their old home.
The statue is made of gesso, a white paint and chalk mixture, and was removed from The Corridor so work could take place to stop pigeons entering the popular shopping area.
Students on the college's architectural stone conservation course led the project which was run together with Bath and North East Somerset Council and the Bath Preservation Trust.
'Quirky details'
Nigel Bryant, the college's stone conservation lecturer, said: "This has been one of many very challenging projects for our students this year and I'm extremely proud of the dedication and skill they have shown in conserving such an important statue."
Mr Bryant, who carved the stone pig to go alongside the King Bladud statue in Bath's Parade Gardens, said: "Working on high-profile projects such as this and also the Orangery at Tyntesfield Manor for the National Trust has given them a real taste of what's involved in architectural stone conservation and has helped prepare them for the world of work."
Caroline Kay, chief executive of the Bath Preservation Trust, said: "This is the latest in a series of joint projects with City of Bath College to restore and replace the quirky crafted details of this city.
"We are delighted to have played a part in making this happen."
The project was overseen and funded by the World Heritage Site Enhancement Fund.
The fund's chairman, David Beeton, said: "We are very grateful to the staff and students of City of Bath College who have done an outstanding job in restoring this statue."