Man shot dead in street in Easton area of Bristol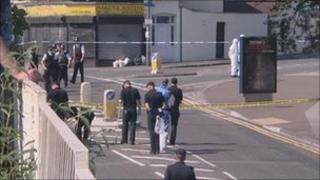 A 21-year-old man has been shot dead on the street in Bristol, prompting a major police investigation.
The shooting happened at about 0410 BST near the Coach House pub in Stapleton Road, Easton.
Police said a 23-year-old man had been arrested in connection with the incident.
A man, 23, and a woman, 19, are being treated at Bristol Royal Infirmary for injuries which are not thought to be life-threatening.
The dead man is not believed to be from the local area. His family have been informed.
The road at the scene of the shooting has been closed in both directions between Warwick Road and Oxford Place.
Police said it was likely to remain shut into Monday morning because of the nature of the crime scene.
Forensics experts are still examining the area and a "visible police presence" will remain for some time.
'Speaking to witnesses'
Det Supt Sue Scott, of Avon and Somerset Police, who is leading the investigation, said it was "an emerging picture" at the moment.
The other two people injured are also suspected to have been shot, she said.
But Det Supt Scott said she did not yet know how they were connected to the man who died.
The St Pauls Carnival, which took place nearby on Saturday, was attended by tens of thousands of people.
Det Supt Scott said: "We are speaking to family, we are speaking to witnesses.
"Actually, because of the St Pauls Carnival last night, there were a lot of people out and about having a pleasant evening."
But she said she was not aware of any link to the carnival, adding: "As I understand it, that went very well and a lot of people had a great time there. This happened a long time afterwards.
"We can't rule out a connection, but at this time we don't know."
'Very angry'
Keti Sarguna, who lives just off Stapleton Road, said: "I heard a commotion and I heard shots going off. It didn't sound like gun shots at all, it sounded like fireworks."
Jagtar Kandola, who owns a shop inside the police cordon, said: "I'm not even allowed to go into my premises.
"It makes me feel very angry, not only that I'm losing business here but I'm just wondering what sort of effect it will have on my customers?"
Det Supt Scott said: "We've had to close off the immediate area, Stapleton Road and some other small roads, in order to secure the scene and any evidence to help us understand the events that happened first thing this morning."
She said there was nothing to suggest a link between the shooting and two stabbings in the area earlier this week.
Three people were arrested on suspicion of murder after a man in his 30s was stabbed to death in Walker Close in the early hours of Friday.
On Monday, a man suffered leg and chest injuries when he was stabbed in a butcher's shop on Stapleton Road. Two men have been arrested in connection with that incident.
Easton councillor John Kiely said he had called for an in-depth inquiry into violent crime in the Stapleton Road area following a stabbing last year.
He said: "A working group has since been set up to try and address the issue as well as how to engage with young people.
"Obviously there are worries about what resources are going to be available to the police in the future, especially given the ward has some of the highest crime figures for the Avon and Somerset Constabulary area."
"It is very concerning there appears to be an escalation in violent crime over the past few weeks," he said.