Bristol-bound Ryanair flight passenger sits on 'violent' man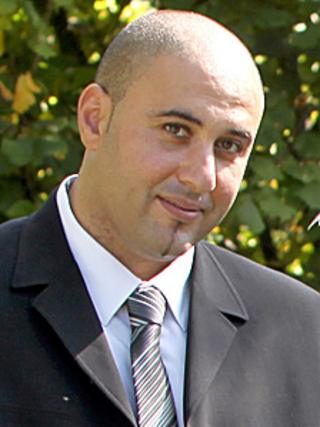 A passenger who helped to restrain a man who was "aggressive and violent" on a Marrakesh-to-Bristol flight has spoken of his experience.
Aziz Eddahar, 36, from Trowbridge, said he had to effectively sit on the man, who was swearing and pushing people, for more than an hour.
He said: "I saw him at the gate before boarding and thought he looked rough. How did he get through security?"
The Ryanair plane was diverted to Brest and French police arrested the man.
Mr Eddahar, who was visiting his mother in Morocco, said: "I always like to sit in the same seat - right at the back of the plane.
"The flight wasn't full - there were quite a few empty seats. I had seen this guy before taking off. He didn't look right, his eyes were right open. I didn't know he would be on my flight.
"I was just about to take a nap when I heard noises. He was in the middle part of the plane and swearing and pushing people.
"You assume the cabin crew will take care of it - the guy was really swearing - but he started pushing the cabin crew.
"I think the crew was Polish and he starts asking them if they speak English. They were trying to calm him down and the [crew] were trying to protect the doors. He was screaming.
"The woman passenger next to me said she was a police officer. She stood up and told the man she was a police officer and this made him ten times more aggressive.
"He spoke English. He had an accent, he may have been Australian."
Mr Eddahar said he restrained the man despite concerns that the man might bite him.
He said: "I used all my weight to restrain him. I am 18 stone 9 and I asked the police officer to advise me what to do.
Mr Eddahar said the pilots apologised to passengers for the diversion to Brest Airport, where the French authorities arrested the man.
A spokesman for Ryanair said: "Ryanair will support and cooperate with any prosecution brought against this disruptive passenger."
The flight had been due to arrive in Bristol at 2300 BST on Tuesday but after the diversion to France it landed at about 0155 BST on Wednesday.