Bath coach drop-off plans opposed by traders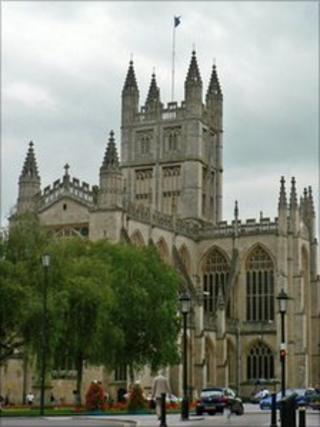 Plans to change the location where coaches drop off tourists in Bath are being opposed by some shop owners.
They currently stop at Orange Grove, behind Bath Abbey, but Bath and North East Somerset (Banes) Council is exploring other options.
Some shops are concerned they will miss out on passing trade and that the proposed sites favour nighttime trade.
The Liberal Democrat-led council said there was only an ad-hoc arrangement with coaches at present.
Roger Symonds, the council's executive member for transport, said: "One of the big issues for me is that there's no coach management strategy in the city.
"We've talked about it for years and it's never happened.
"I'm not pretending that any of this isn't difficult, but we don't have a delivery strategy and we don't have a management strategy and those are the two things I want to move forward as soon as I can."
Janet McPherson, a retired businesses owner in Bath who is campaigning for the coach stop to stay where it is, said: "I think the council have approached it from a purely technical, traffic point of view.
"There's a traffic imbalance because all the attention seems to be given to the nighttime trade which consists of clubs, pubs, drunks and taxis, against the daytime trade of tourists and shoppers which is basically the bread and butter of the city."
The council has said it will look again at the options.