Rico Gordon murder: Police hunt for discarded hoodie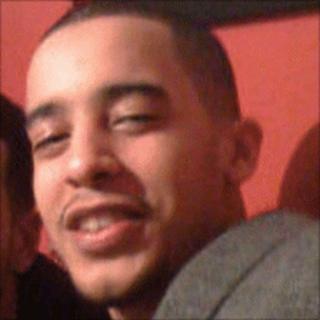 Police investigating the death of a man who was shot on a street in Bristol want to trace a discarded hoodie and a man seen loitering in the area.
Rico Gordon, 21, from London, was killed early on Sunday near the Coach House pub in Stapleton Road, Easton.
Five men arrested in the murder investigation have been released on police bail, pending further inquiries.
Supt Sue Scott said the black hoodie may be blood stained and urged anyone who finds it not to touch it.
She said: "We are looking for a black hooded sweatshirt top that one of the potential suspects may have discarded as they ran from the scene.
"If anyone finds such a top they must not touch it as it may be blood stained and will be required for a full forensic examination once it is recovered.
"Anyone who comes across this item of clothing is asked to call police immediately but please remember not to touch it."
Supt Scott added: "In addition officers are keen to hear from anyone who saw anyone acting suspiciously in the same area following the incident at 4.05am that morning in and around the Belmont Street and St Marks Road area."
A 21-year-old woman who was injured in the incident remains in a stable condition in hospital.
A 23-year-old man who was also taken to hospital after the incident was one of the five arrested and has since been interviewed and released on bail.
Avon and Somerset Police have said a gunfight took place between two groups that had travelled to Bristol from London.
Officers are currently examining a black Alfa Romeo car as part of the enquiry.