Bath Spa University redevelopment plans given go ahead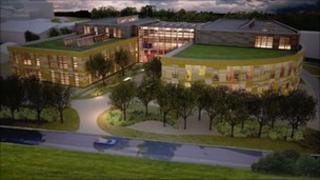 Bath Spa University has been granted planning permission for a major redevelopment of its Newton Park campus.
The plans are for a new academic building and an on-campus energy centre using biomass fuel.
Bath & North East Somerset Council's planning committee approved the application at a meeting on Wednesday.
An application for on-campus accommodation for 600 additional students is also due to be submitted.
The development is in response to the new university funding regime "where students will in future pay higher tuition fees - but will expect an improved student experience".
Following a lengthy process of consultation and design development, the council's development control committee voted unanimously in favour of the proposal.
Vice-Chancellor Professor Frank Morgan said it was "excellent news for the university".
"The new development will provide the best facilities for teaching digital media-related courses in the south-west, so this is also a significant boost for the local creative and cultural industries," he said.
Building work is expected to begin in October.