Dog damage to tree in Bath park may cost £20k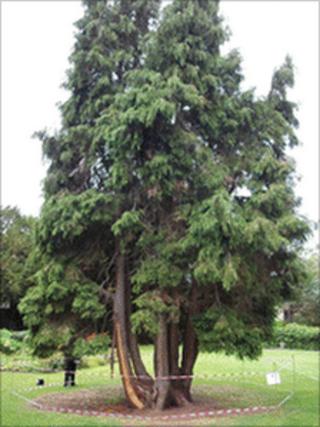 A mature tree in a Bath park may have been damaged beyond repair after a dog ripped long strips of bark from its branches, police have said.
The Avon and Somerset force said it was believed the Lawson's cypress, which is between 60 and 100 years old, was attacked on Saturday.
Replacing the tree, in Henrietta Park, could cost up to £20,000, the spokesman said.
Repairing and replacing trees has cost the same amount in recent years.
The force spokesman said bark was ripped from two of the eight main branches and that tree experts said they would probably have to be removed.
The tree may be damaged beyond repair, he added.
'Strong-jawed'
Pc Mark Hodder, of Bath police, said the owners of the dogs were committing criminal damage, and appealed for witnesses.
A spokesman from Bath and North East Somerset Council said "strong-jawed dogs" being encouraged to chew on bark was a nationwide problem and could kill trees.
"Unfortunately, some dog owners in Bath and North East Somerset are encouraging their dogs to do this, particularly in central locations like Queens Square, Green Park and Henrietta Park," he said.
"Not only is this causing significant damage to some of the most beautiful trees in Bath which have been in place for generations, it means the council often has to fell them and plant replacements.
"Over recent years this activity has cost the local taxpayer around £20,000."