Handball official Roger Dickinson's Olympic goal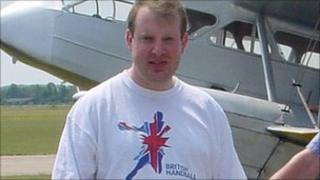 A member of the Bristol handball club is hoping to be selected to become an official for the sport at the London 2012 Olympics.
Roger Dickinson, from Bristol, has been training for the role at various events since last September.
Officials from the sport's governing body will decide at the end of the year who to appoint for the Games.
"It would be exciting work," said Mr Dickinson, who has been playing the sport for the past five years.
Mr Dickinson, who runs the Bristol handball club, responded to a job advert on the British handball website asking for technical officials to be trained up for the Olympics.
'Up to the job'
The three main roles up for grabs for about 30 officials at the Games will be score keeper, time keeper and the recording of statistics for each player.
Mr Dickinson has already received training at handball events in September 2010 and March 2011, with another event due this September.
Then in November the final assessment will take place at a week-long event at the handball arena at the Olympic Park in London.
"We'll be assessed by the international handball federation officials to make sure we're up to the job, and that's when we'll find out [if we've been chosen]," said Mr Dickinson.
At the Olympics there will be handball games every day for two weeks, with up to six games a day during the preliminary stages.
"I'm not sure if we'll be working every day but we'll be doing at least a couple of games a day," he added.