Bristol pond boy death: Family members spared prison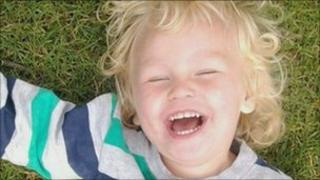 A toddler died when he fell into a pond while his grandmother who had been drinking, was asleep and his parents were at a pub, a court has heard.
Daniel Marshall Rees-Smith, two, was found dead at his grandmother's home in Hanham, near Bristol, in June 2010.
Hilary Rees, 44, was jailed for a year and Charlotte Rees-Smith, 19, for eight months. They admitted cruelty and neglect. The sentences were suspended.
Daniel's father Andrew Marshall, 21, was given four months suspended.
He had pleaded guilty to a charge of neglect. All three sentences were suspended for two years.
An official report from Bristol's Safeguarding Children Board has called for improvements to Social Service practices but places the blame for Daniel's death with the adults who were meant to be caring for him.
Speaking outside court, spokesman Dr Ray Jones said the outcome had been "terrible".
"The family themselves deeply love this child. Others tried to help the family caring for him - nobody would have known this was going to happen."
At their trial at Bristol Crown Court on 11 July, Daniel's grandmother Hilary Rees, of Mount Hill Road, Hanham, and his mother Rees-Smith of Hicks Court, St George, Bristol, pleaded guilty to charges of child cruelty and neglect from April 2009 until June 2010.
A guilty plea to neglect from Daniel's father Marshall, of Wrington, North Somerset, related to the day of the youngster's death.
Speaking during the trial Mr Justice Maddison said the family's actions had "considerable shortcomings" and added Daniel's death was "tragic".
Rupert Lowe, prosecuting, said: "The pleas offered represent responsibility taken by all three defendants who the Crown says bear responsibility for what happened to Daniel Rees-Smith."
Mr Lowe said the pleas were accepted after discussions with the Crown Prosecution Service and the police.
The prosecution dropped manslaughter charges against all three family members.
Daniel was taken to Bristol Children's Hospital after emergency services were called to the house on Mount Hill Road at 2245 BST on 4 June 2010.
Doctors were unable to revive him and he was pronounced dead.