Bath Royal United Hospital opens new neonatal care unit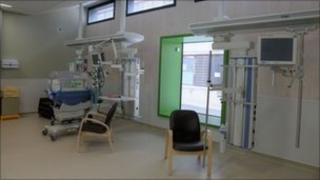 Babies and their families have started moving into a new neonatal care unit at Bath's Royal United Hospital.
Funding for the £6.1m Dyson Centre was helped by £3.1m which was raised by the hospital's charity, the Forever Friends Appeal.
Local entrepreneur Sir James Dyson's charitable foundation contributed £500,000 to the appeal.
The hospital says the "environmentally sustainable" unit is the first of its kind in the UK.
It was built using large timber panels, which are carbon-negative.
Matron Debbie Grant said: "It is a fantastic, purpose-built centre which has exceeded all our expectations.
"We are so excited at the prospect of putting it into operation."
Forever Friends Appeal head, Tim Hobbs, said: "It is a special moment when a project like the Dyson Centre for Neonatal Care comes to fruition. The team is just thrilled and would like to say a really big thank you to everyone that has helped.
"As soon as the babies are in, work will begin on turning the old unit into parents' accommodation, offices and training facilities."