St James Priory repair project completed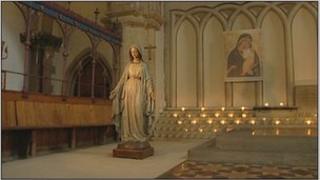 A £4.4m project to repair St James Priory in central Bristol has been completed.
The Grade I listed church, which is on English Heritage's buildings at risk register, had a leaky roof and rising damp.
The Priory was founded in 1129 by Robert, First Earl of Gloucester, and is Bristol's oldest standing building.
It is now home to the St James Priory Project which runs a residential drug rehabilitation centre.
The Priory will be officially reopened on Monday evening with a mass carried out by Bishop Declan.
Sue Jotcham, the director of St James Priory, said much of the work "you can't see".
"A lot of the roof timbers in the main nave were rotten and so they had to be cut out and repaired," she said.
"There was also a lot of work done to the stonework which was in such a poor state of repair that the rainwaters were coming every time it poured down."