Princess Anne reopens Weston-super-Mare's Grand Pier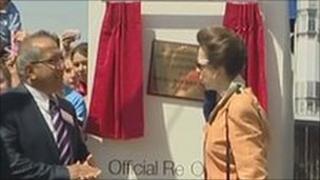 The Grand Pier in Weston-super-Mare has been officially reopened three years after it was destroyed by fire.
Princess Anne, who saw the damage for herself during a visit in December 2008, unveiled a plaque to commemorate the reopening.
The princess also opened a new public space during the visit and viewed the improved sea defences nearby.
It took two years and a £52m investment to rebuild the Grand Pier, which reopened to the public in October 2010.
The princess visited the town five months after the fire and met the owners, the emergency services and those involved in the plans to rebuild the pier.
Monday's visit marks the completion of £86m investment on the seafront, including the pier and a programme to improve the town's sea defences.