Thermae Bath Spa customers evacuated by fire alarm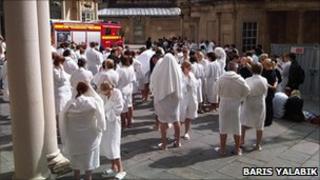 About 100 people had to wait in the street in their bathrobes when a fire alarm went off at a day spa.
Customers were evacuated from the Thermae Bath Spa for about 30 minutes when the alarm sounded on Sunday afternoon.
Firefighters were called and the alarm was confirmed to be false and caused by a technical fault.
The spa apologised and offered customers the chance to extend their visits.