Former Avon area councils bid for transport funds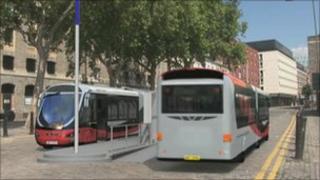 The four councils that span the former Avon area have joined forces to bid for £250m of government funding for transport improvements.
Bath and North East Somerset, Bristol, North Somerset and South Gloucestershire councils are to submit five bids in September.
The proposed schemes include tackling congestion in Bath, and "rapid transit" bus routes in Bristol.
There are also plans for traffic improvements in Weston-super-Mare.
The county of Avon was abolished in 1996 and replaced with the four unitary authorities.
The five schemes are:
The Bath Transportation Package, which includes expanding three park and rides, changing access to the city centre and nine bus routes
A rapid transport bus link from Ashton Vale to Bristol city centre with frequent environmentally-friendly buses and segregated bus lanes
The Weston Package, which includes improving flow into the town from the M5 and a new interchange and car park at Worle Railway Station
The South Bristol transport link, a single carriageway with bus lanes linking the Long Ashton park-and-ride, the A370 to the west of the city and Hengrove Park
The North Fringe to Hengrove Package, which would see three new rapid transit bus routes in the North and East fringes of Bristol via the city centre
Brian Allinson, South Gloucestershire councillor and chairman of the Joint Transport Executive Committee, said the result of the bid was expected in December.
Details of the schemes can be seen on the Travel Plus website.