Removing Avon Gorge graffiti 'could damage plants'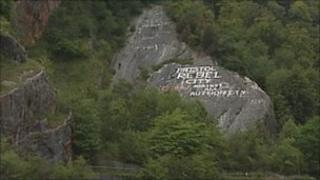 Graffiti daubed on a cliff face in Bristol will probably be left on show because removing it could damage rare plant life.
The slogan, painted in large white letters, appeared on the Leigh Woods side of the Avon Gorge a few weeks ago.
The graffiti is visible from the A4 Portway and to people on boat cruises.
The National Trust said it needed agreement from Natural England that removing it would not have a detrimental effect on wildlife.
The slogan says "Bristol Rebel City Against All Authority".
'Really important'
Bill Morris, from the National Trust, said: "It's a shame because I think the gorge is such an iconic place and it's a shame to have something like that intruding.
"But having said that, I think probably the majority of people don't see it.
"It is a relatively small piece of graffiti in a very large site."
The stretch of the gorge has previously hosted a sculpture made of rubbish collected in the area in 2008, and, in 1999, artists were commissioned to paint a seam of gold on the cliff.
Mr Morris said: "It's not the most accessible of sites but the key thing is the site is really important for wildlife so we would have to get consent from Natural England that anything we were going to do wasn't going to have a detrimental effect.
"We wouldn't damage things like Bristol rock cress. Avon Gorge is the only place you are going to come across that particular plant in Britain and we wouldn't want to lose something as special as that."