Firms fined £300k over engineer's death on M5 near Bristol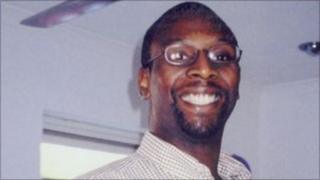 Two companies have been fined £300,000 after an engineer fell to his death while trying to fix a roadside camera on the M5.
Cecil Grant, 42, died after falling 16ft from an embankment wall near Clevedon in January 2006.
The Health and Safety Executive (HSE) brought the case against his employer Serco, which was sub-contractor to Birse Civils, at Bristol Crown Court.
The companies had pleaded guilty to breaching safety regulations.
The accident happened between junctions 19 and 20 of the motorway. The court heard there was no risk-assessment and Mr Grant had to bring his own torch.
Father-of-two Mr Grant, from Southmead in Bristol, stepped over a barrier to make the repairs, and fell. He died 10 days later.
An inquest held at Flax Bourton Coroner's Court in November 2009 ruled his death was accidental.
After the hearing, Mr Grant's son Aaron Sealey-Grant said: "No money - it could be £1m, £3m, £3bn - is ever going to bring my dad back."
Karen Sealey, Mr Grant's partner, said: "To a certain point it's closure, obviously for us it's a lifetime thing. We live with this day in, day out."
The companies' lawyers apologised to the family.
David Leckie, representing Serco, said: "We pleaded guilty at the earliest possible opportunity. We've always fully accepted our responsibility for this tragic accident.
"But most importantly, we've put in place policies and procedures to ensure there will never be a repeat of such a tragic accident."
Following the hearing, HSE inspector Steve Frain said: "There were major failings in the way this work was planned which sadly resulted in Mr Grant's tragic death.
"When employees are working at height, proper plans must be put in place and workers made aware of possible risks.
"In this case, Mr Grant had not been made aware of the dangerous drop where he was working. If he had been, a tragic incident could easily have been avoided."
Serco pleaded guilty to breaching two health and safety regulations and was fined a total of £200,000 and ordered to pay costs of £36,000.
Birse Civils pleaded guilty to breaching one regulation and was fined £100,000 with costs of £180,093.