Weston-super-Mare pub badly damaged by fire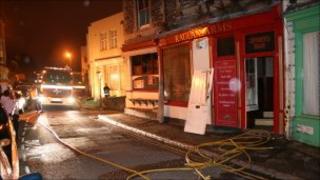 A fire that badly damaged a Weston-super-Mare pub led to homes being evacuated.
It was initially feared that people were trapped in the fire at the Raglan Arms at about 03:00 BST, and six firefighters carried out a search.
But they found the building was unoccupied, the Avon Fire and Rescue Service spokesman said.
People in neighbouring properties were evacuated due to the smoke. Police and the fire service are investigating.