Campaign to save Longwell Green play areas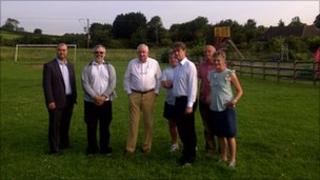 A campaign has been started to try to save two play areas near Bristol from closure.
Owner ATA Estates leases the land at Williams Close and Pearsall Road in Longwell Green to South Gloucestershire Council.
Earlier this year the company lost a planning appeal to build more than 80 homes on the green belt land.
It has now decided to terminate the leases and the council has been served notice to vacate the sites.
Kingswood Conservative MP Chris Skidmore started the petition to save the play areas with a group of residents on Wednesday evening.
'More money'
He said children would be penalised, adding: "The land is green belt so cannot be touched, so there is little reason for this decision."
The council said in a letter to residents: "These sites were licensed to the council in 1965 and 1978 respectively. The licences were temporary and terminable at short notice.
"Negotiations have taken place in an attempt to try and retain the sites, preferably on a permanent basis, or on a temporary basis.
"The owner is unwilling to sell the land to the council and is seeking a lot more money than the council considers reasonable for temporary leases.
"They were only willing to grant 10-year leases, terminable upon any grant of planning permission obtained by the owner to develop the sites."
ATA Estates could not be reached for comment.