Work on controversial Bristol bus route begins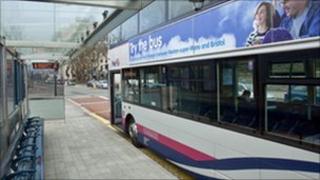 Work has started on a controversial bus route in the Eastville area of Bristol.
The city council is changing the layout along Fishponds Road in an attempt to improve journey times.
But the plans, which include parking restrictions and bus lanes, have attracted opposition from residents and traders.
One trader said he might have to close his shop due to the changes. He said: "We're not happy because when my customers come here they want parking."
Another trader added: "I think it will kill a lot of the business on Fishponds Road which is dying as we speak now. It's another nail in the coffin I fear."
Lesley Alexander, Conservative councillor for Frome Vale, said she also wanted the work to stop.
"Fishponds is a community and it's the last place you can go shopping out of town before you hit the South Gloucestershire border," she said.
"If the shops shut it will be the end of the Fishponds community."
'Positive change'
The city council said it carried out a consultation with traders and local residents on proposed changes.
Tim Kent, cabinet member for transport, said around 1,500 people had signed a petition against the plans - but he believed the changes would improve bus services for tens of thousands of people.
"I do understand traders have fears that this will impact on their trade," he added.
"But where we've done it in other areas of Bristol normally traders have opposed it but when it comes in they discover it hasn't hit their trade but in some places actually improved it.
"They normally accept the changes as a positive change."