Bristol City Council owns 24 pubs, hotel and nightclub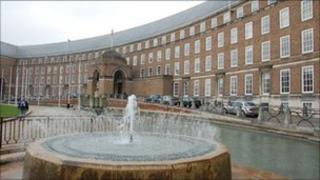 Bristol City Council owns more than a dozen restaurants, 24 pubs, a hotel and a nightclub, it has emerged.
The figures have been released as part of a government move to show the public where their money is being invested.
Peter Holt, from the Liberal Democrat-run council said it had put its money into shops and commercial property.
"Over those tens of millions of pounds of property we get a return of about 6% per year so we get money in from these assets," he said.
The city council currently owns some 5,000 investment properties which produce an annual income of just over £12m.
The current value of its property portfolio is £204m out of a total value of all the council's property assets of £2bn.
The assets are reviewed yearly and any that are under-performing are identified for potential sale.
At present, the council says, the income generated from renting out properties gives a better return than if it sold and invested the proceeds.
The map, published on The Communities and Local Government website, shows details of some of the properties owned by government, the public sector and councils in England to highlight where further savings could be made in local authority budgets.
Communities and Local Government Secretary Eric Pickles said the public probably had "no idea of the sheer scale and scope" of property and land on the public sector's books.
He said: "I want the public sector to take a good hard look at what they own.
"By cataloguing each and every asset councils can help government find innovative new ways to utilise them, improve local services, keep council running costs down and save taxpayers' money.
"This asset information also holds huge potential for local communities, offering an at-a-glance way to find that new meeting place or rescue the derelict tennis court round the corner."
But Mr Holt argued selling any assets at a time when the market was depressed was not a good idea.
"The idea of selling off the family silver when the economy's at a low point and not getting half as much as they were worth a year ago doesn't sound like it makes a lot of sense," he added.