Bristol driver fined after gesture to speed gun volunteer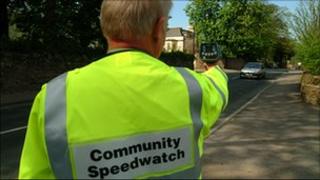 A Bristol driver has been fined after he made offensive gestures to a speed gun volunteer.
The 31-year-old Thornbury man, who has not been named, was given an £80 fixed penalty by police after the incident.
He apologised after admitting the offence in Gloucester Road, Bristol, on 28 June.
Neighbourhood PCSO Dawn Golding said: "We will not tolerate this. Volunteers will report anyone who does this and we will deal robustly with them."
Speed Watch volunteers are trained by Avon and Somerset Police and carry out roadside speed checks.
Since the scheme began, police have written 785 warning letters to drivers clocked by the volunteers at speeds of up to 75mph in a 40mph limit.
Ms Golding added: "Since the scheme began in October last year, they (volunteers) have been verbally abused and even had a bottle thrown at them."