Bristol parents lobby for primary school place funding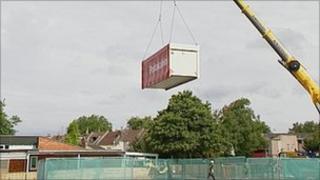 Parents of young children in Bristol have launched a petition calling for more funding for primary school places.
It comes as 19 temporary classrooms are being put in place to provide more than 700 new places from September.
Bristol City Council says a rise in population means a minimum of 3,000 extra places will be needed over the next three years.
Liberal Democrat council leader Barbara Janke said funding was "an absolute priority".
The petition, published on the Bristol City Council website, calls on Ms Janke to lobby the government for more funding.
It says: "The last four years has seen an unprecedented rise (20%) in the number of children entering school in reception class.
"By 2014, there will be an extra 3,000 children in Bristol primary schools and, if planned housing is developed, this will increase to an extra 5,000."
'Letting us down'
Ms Janke welcomed the document and urged parents, governors, and head teachers to support it.
"It is of the utmost priority that we have funding to start work in the next six months if we are to provide the much-needed places we know we will need," she said.
"We have already provided 670 new places in the last four years. We have money for the schemes proposed for this September.
"What we really need now is a clear commitment to a medium-term programme to provide for needs of a minimum of 3,000 reception places over the next three years."
Mark Sinclair said other parents could not take it for granted that their children would get into a local school.
"We live very close to the schools we didn't get into and that story repeats itself many times across Bristol," he said.
"To the councillors, the message is 'you're letting us down'."
Clare Campion-Smith, the council's executive member for schools, said that in some cases the solution would be expanding schools while in others, the council would have to purchase sites.
Schools Minister Nick Gibb said: "The priorities are ensuring every child has a school place and then looking at the fabric of the building.
"The schools in most desperate need of refurbishment or rebuilding will have a priority."