Quiet night in Bristol after extra police drafted in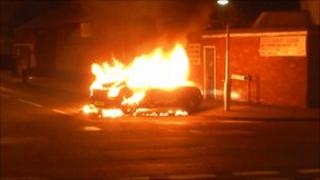 Police in Bristol have said there were no incidents of disorder or rioting on Wednesday night into Thursday morning.
Extra officers from neighbouring forces had been drafted into the city, some in armoured vans, to quell any disorder which may have occurred.
A number of arrests were made in connection with Monday's disturbances.
Insp Rob Barker, from Avon and Somerset Police, said it had been a very quiet night and the city was getting back to business as normal.
"We'll continue to have a lot of police on the streets to reassure the public and to make sure nothing further happens," he said.
"We've policed Bristol very effectively over the past couple of days we've had a lot of officers out and have enjoyed the support of the vast majority of the community."
The force has also started a Facebook page showing "mugshots" of people they want to talk to and video footage of various incidents in the city.
Since the disorder began in Bristol on Monday, 32 people have been arrested on suspicion of various offences including violent disorder, criminal damage and assaulting police officers in the execution of their duties.
There was smaller scale disorder in the city on Tuesday night.
The disturbances followed days of rioting in London which began on Saturday after a peaceful protest over the fatal shooting by police of a man in Tottenham.