Historian launches an alcohol free pub crawl of Devizes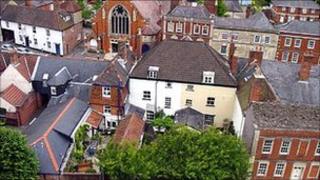 A local historian has launched an alcohol free pub crawl of some of the "lost pubs" of a Wiltshire market town.
John Girvan, who organises ghost walks and heritage tours, is trialling a walking tour that visits over 90 inns that once existed in Devizes.
Only 20 public houses remain in the town that once boasted several Black Swans, White Harts and White Lions.
Mr Girvan said there has been a lot of interest in his Lost pubs of Devizes Dry Pub Crawl, which began on Thursday.
Starting at the Devizes Tourist Information Centre, formerly The Green Dragon Pub, the tour includes Market Place where 35 drinking establishments once existed.
"I found a lot of these pubs from old deeds, documents and manuscripts - some of them dating back to the 1500s," said Mr Girvan.
"Next door to the Information Centre, for instance, was the Leopard's Head - that dates back to 1666."
Among the other 130 pub names "completely lost" from the town are The Wheelbarrow, Dokemannys, The Black Boy, The Dog, The Ship and The George.
"Dokemannys is the very oldest named pub in Devizes it dates back to 1514 whilst the Elm Tree, another old one, only closed down just last year," he said.
"These pubs are lost, they no longer exist but it's very thought provoking to realise that there were all these places.
"And there's certainly been a lot of interest in the tour - so I'll be doing it again next month."